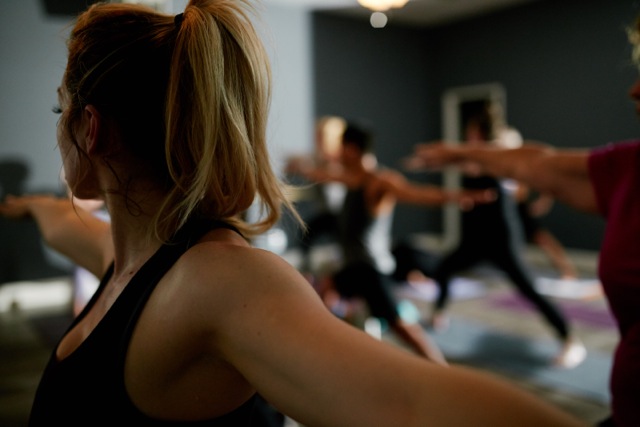 Sunrise Flow begin your day by increasing your flexibility, strength, mental clarity and overall energy levels with us. Sunrise Flow 60 is designed to awaken and open your body while deepening
into your breath. This vinyasa flow practice will leave you feeling re-energized and ready to take on the rest of your day. Studio will be heated from 75-85* in this class. 
Power Flow   is a Power Vinyasa class with an emphasis of Power. It has many benefits, including building internal heat, increased stamina, strength and flexibility, as well as stress reduction. Teachers design and build their own sequences while students synchronize their breath with their movement.  In our Power Flow classes expect to sweat, get outside of your head and find fluid transitions from one pose to the next.  We create an experience welcoming all levels.  Studio will be heated from 79-85* in this class.  This class is 60 or 75 minutes.
Gentle Flow  is designed for beginners through intermediate students. In Gentle Flow you will be guided through simple accessible postures with breath, that target to open engage and stretch the body gently.   Props are encouraged to allow the body to fully access each pose comfortably. This is a great class for students looking for a gentle experience, those who are new to yoga or those who crave a slower pace. The studio is not heated for this class.
Restorative Yoga
is a gentle, slow, restorative stretch experience where you can relax and recharge. Restorative yoga will gently warm up the body & focus on poses that you can simply melt into allowing us to let go of long-held tensions that may manifest not only in our physical body but out mental body as well. This is mostly a floor practice with few to no active, strenuous poses. Many props are used in this class to encourage support in every pose. This class is not heated. 
BarreLates 45  is your favorite barre class with focus & emphasis on Pilates movements and Pilates alignment.  Using mostly your own body weight and low impact props such as a ballet barre, resistance bands, light hand weights & gliding discs, This class is dynamic and musically driven class. This class is 45 minutes.
Barre 45 In Barre we build long lean muscle but utilizing small hand weights and the ballet barre for balance and stability.  We work the muscle to fatigue with big then small repetitive movements.  With your favorite teacher bumpin the jams and your crew encouraging you every step of the way you will always feel accomplished, encouraged and energized when you leave the barre. The studio is not heated for this class. This class is  45 minutes.
Slow Flow Yoga
Is a Vinyasa yoga class that links mind, movement, breath and yoga philosophy together. It is less intense than Power Yoga. The class consists of dynamic, meditative sequences and still poses for building strength and increasing flexibility and balance. It allows practitioners at different levels to release stress and experience poses while evaluating when to modify or move past limitations.
High Vibe HIIT Combines the heart-pumping benefits of high intensity interval training with the strength, flexibility, and core-firming attributes of yoga, you will get a total body workout in just under an hour.  HIIT is a series of exercises done to maximum intensity for a short interval (20-60 seconds) followed by a short rest period.